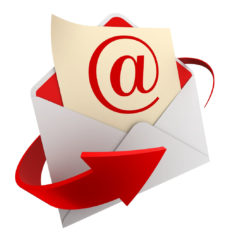 Your email signature bookends your salutation.  Both are perfunctory, and yet pertinent.
As overlooked as the signature can be…don't you always notice when it's missing?…or minimal…or overdone?
The email signature for a voice-actor is part marketing, part follow-up, part punctuation.  Since you use email a lot in your daily business (well, most of us do), the email signature is essentially your business card.  Make it count.
I've written about this before, so it might not hurt to check it out.
But I'm here today to suggest a couple (3, actually) tools for designing an email signature that fills the bill.
Gmail and Outlook users know that there are HTML design tools in the settings of both those programs that allow you to compose a pretty complete signature.  But there are helpful add-ons these days that give you some pretty slick options.
Jamie Swift, an associate with FormSwift, wrote me the other day to point-out THEIR service.  Actually FormSwift is a pretty helpful site for creating and signing documents online…all kinds of documents.  'Might wanna bookmark it.  But their page formswift.com/email-signature let's you choose different designs, then seamlessly import that finished sig into your email program.
Swift claims:  "…In my opinion, our Email Signature Tool is more professional, up-to-date, and user-friendly than any other existing email signature tool, not to mention it is completely free for anyone to use…"
My second recommendation is WiseStamp.  This site specializes in creating email signatures, and can be embedded within Gmail, Outlook, iPhone, and Mac email programs.  The free version is pretty full-featured, but of course, they'd like you to buy into the updated (paid) version with even more possibilities.  Lots to consider with WiseStamp.
Finally, not an email signature utility exactly, but as a voice-actor, you really should consider using VoiceZam.  This program is designed for voice-actors.  The heart of VoiceZam is a unique demo player, but Owner/Founder Bob Merkel has built some incredible tools into his baby, and one of them allows you to embed links to your demos IN your email signature.  It's called StraightShot™, and in my estimation, it's one of the pillars of any voice actor's marketing strategy.
BTW, Merkel tells me that the StraightShot buttons work perfectly with WiseStamp.  He offers this YouTube Video on how to get to get the two to work together.  https://youtu.be/_-no9r32NB8
There ya go!  Put it all in your sig.  People notice!
CourVO
[sorry, the above is an image, links not clickable….it's HTML complicated]
Comments
comments